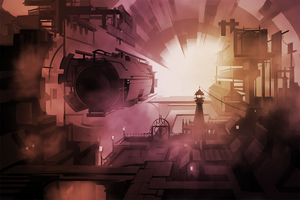 Albion is the British Empire's domain in the High Wilderness, illuminated by a clockwork sun and galvanized by the new industry of mining and refining time itself. All space that lies beyond Albion is known as the Reach.
Locations
Edit
Throne of Hours
Clockwork Sun
Brabazon Workworld
Prince-Consort's Mausoleum
Bully's Acre
Worlebury-juxta-Mare
Minerva
Lothian - named after a real place, in Scotland
Sky Barnet
Floating Parliament
Isambard Line
Ad blocker interference detected!
Wikia is a free-to-use site that makes money from advertising. We have a modified experience for viewers using ad blockers

Wikia is not accessible if you've made further modifications. Remove the custom ad blocker rule(s) and the page will load as expected.