"[Iron & Misery] has a funger operation here, felling giant bolegus shrooms for building materials, harvesting kirralee for its 'medicinal' properties. It's a desperate little outpost of something like civilisation."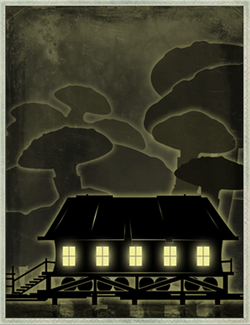 Demeaux Island is the location of the Iron and Misery Co. Funging Station, a huge mushroom-growing and harvesting operation. Nearly all the workers here are slaves, who are of course eager to escape. Working conditions are poor, and escapees often complain that they need to pick fungal sproutlings out of their eyes. If one eats too much of the fungus grown here, the 'shrooms will start growing inside of the victim, and then... never mind.
Ad blocker interference detected!
Wikia is a free-to-use site that makes money from advertising. We have a modified experience for viewers using ad blockers

Wikia is not accessible if you've made further modifications. Remove the custom ad blocker rule(s) and the page will load as expected.