"With so much business in Fallen London, you can't expect the inhabitants of Hell to go home at the end of every day, can you? The Brass Embassy is a cozy hell away from hell which, they say, holds the best masked balls in the city."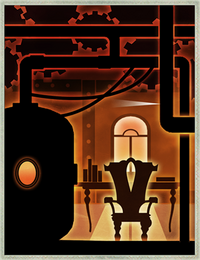 When
Fallen London
's
devils
need to leave Hell for various reasons, they stay at
the Brass Embassy
, a hotel/apartment complex in 
Ladybones Road
. While there, the devils often indulge themselves - for example, they eat at many of London's devil-friendly restaurants and attend extravagant parties on a ballroom floor of molten brass. Don't worry about their feet. They can handle it - after all, they are from Hell.
The area around the Brass Embassy is home to places like Abbadon and Bael, "Hell's most successful trading company;" Dante's Grill, a relatively exclusive but popular restaurant which is known for its devilled kidneys and "torment-broiled" chops; and other devilish restaurants and taverns like the Long Spoon. It's also the center of the thriving soul trade. Ordinary people can obtain guest rooms at the Brass Embassy, though they're exorbitantly expensive. It's even more expensive to upgrade that room to a fiery Sanctum.