"The Quarter is the last remnant of the Fourth City, which the Bazaar acquired five hundred years ago. Statues of warrior-kings line silent avenues. A fountain shaped like a silver tree stands before a ruined palace at its heart."
"You can generally find your way out of the Forgotten Quarter. It's just difficult to remember afterwards how you did it."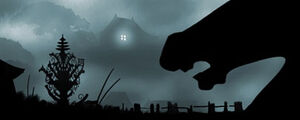 The Forgotten Quarter, as the snippet above says, is the last surviving remnant of the
Fourth City
. It lies south of London. It's frequently the location of archaeological expeditions; it is also a magnet for scholars of 
the Correspondence
. But be warned: if your efforts anywhere here end in failure, you'll have nightmares. This location is meant for London's more Watchful individuals.
Notable Landmark
Edit
You may enter the Cave of the Nadir by dealing with the Secular Missionary and the Revolutionary Firebrand, then going on an expensive archaeological expedition in the Quarter. The violet-foggy Cave happens to be the one spot in the Neath where you can get the malady known as irrigo - the light of absence. Beware...
Ad blocker interference detected!
Wikia is a free-to-use site that makes money from advertising. We have a modified experience for viewers using ad blockers

Wikia is not accessible if you've made further modifications. Remove the custom ad blocker rule(s) and the page will load as expected.